Renting an apartment instead of buying one has become a more interesting alternative for many of us.
The main arguments in favour of renting are: the lack of commitment such as mortgage, higher and higher housing prices in attractive neighbourhoods, and greater freedom in moving or moving between cities.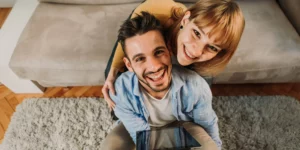 We perfectly understand you may be fed up with attending 'castings' when looking for a flat to rent. Unannounced visits by landlords or failure to react to broken household appliances information also don't make everyday life any easier. If you are looking for new opportunities, institutional rental is exactly for you.
See 6 reasons why it's worth to rent a place @Home.
1. A rented apartment does not have to be poorly equipped, neglected or not very functional.
Doing our best to identify the needs of the market, we listened to our potential clients. We wanted to find out what problems they encountered while renting from private landlords, and what needs they had in regards of apartments and services.
That is why at @Home we focused primarily on design in which everyone would feel comfortable. The building will offer high-standard premises for rent, designed by young, but experienced architects from designanatomy.pl, responsible for among others awarded office designs, shared areas and restaurants in Olivia Business Centre.
Modern, functional and well-soundproofed apartments will give future tenants the opportunity to adapt them to their own style.
2. Safety in @Home has many dimensions.
Most of all, the project is created by two experienced investors, so you will avoid a situation in which you sign an illegal contract or do not get the right keys to the apartment.

All formal proceedings are fully transparent. On top of that there is 24h CCTV surveillance, as well as concierge, telephone entry systems, locked and monitored garage hall with place for bicycles.
3. You're giving up the typical private landlord – tenant relationship.
Nobody checks up on you, makes unannounced visits, walks into your apartment without you not knowing and restricts you or others in the household.
The main idea is to make you feel at home, that's why you can invite anyone you want, and live with your whole family (including your pet).
4. You know this feeling when your fridge breaks down, and your landlord cannot be reached for weeks?
The concierge is always available in @Home building. All residents have their contact number. You can easily solve any matter with the concierge's help, such as white goods' repair.
You wait a maximum of 24 hours for 'Mr Handyman's' arrival. It's not too long, is it?
It is also worth highlighting that if the equipment in your rented apartment was not destroyed deliberately, the cost of the repair is on our side.
5. When renting an apartment from a private landlord, have you ever been under the impression that not all the terms of the lease and fees were clear?
In @Home all activities are transparent and clear for both parties. For example, as @Home Resident you will pay the utility bills based on the meter readings that are available for you.

It is much more convenient and transparent than paying advances for utilities. Surcharges and refunds billed once a year based on unclear terms – in the case of private rental, the calculation is often made once a year and does not coincide with the actual rental period.
In addition, you will avoid binding contracts, e.g. with an internet provider, as Wi-Fi is available throughout the whole building.
6. Decor from the times of communism, carpets on the walls, toilet in the kitchen, how many gems like these have you found on the market so far?
Of course, we took it with a grain of salt, but it is worth emphasizing that we want you to feel at home.
That is why we offer future residents an apartment configuration, at the reservation stage.
@Home, it will be possible to choose additional services, ranging from car parking, secured bicycle room to dedicated advisor. The list of additional services is much longer.
@Home we think outside the box and we aim to show various possibilities and perspectives.
But it's up to you to decide. If these arguments convinced you, then subscribe for the newsletter and be the first to see the offer.