As part of the preparation process of @Home project we talked to young people who rent apartments. We asked about their needs, problems, and experiences. We heard many stories that helped us adjust our product to young people's needs. Unfortunately, some stories we heard were negative – our respondents encountered frauds and lost their money. We hope that our tips will help you avoid similar mistakes.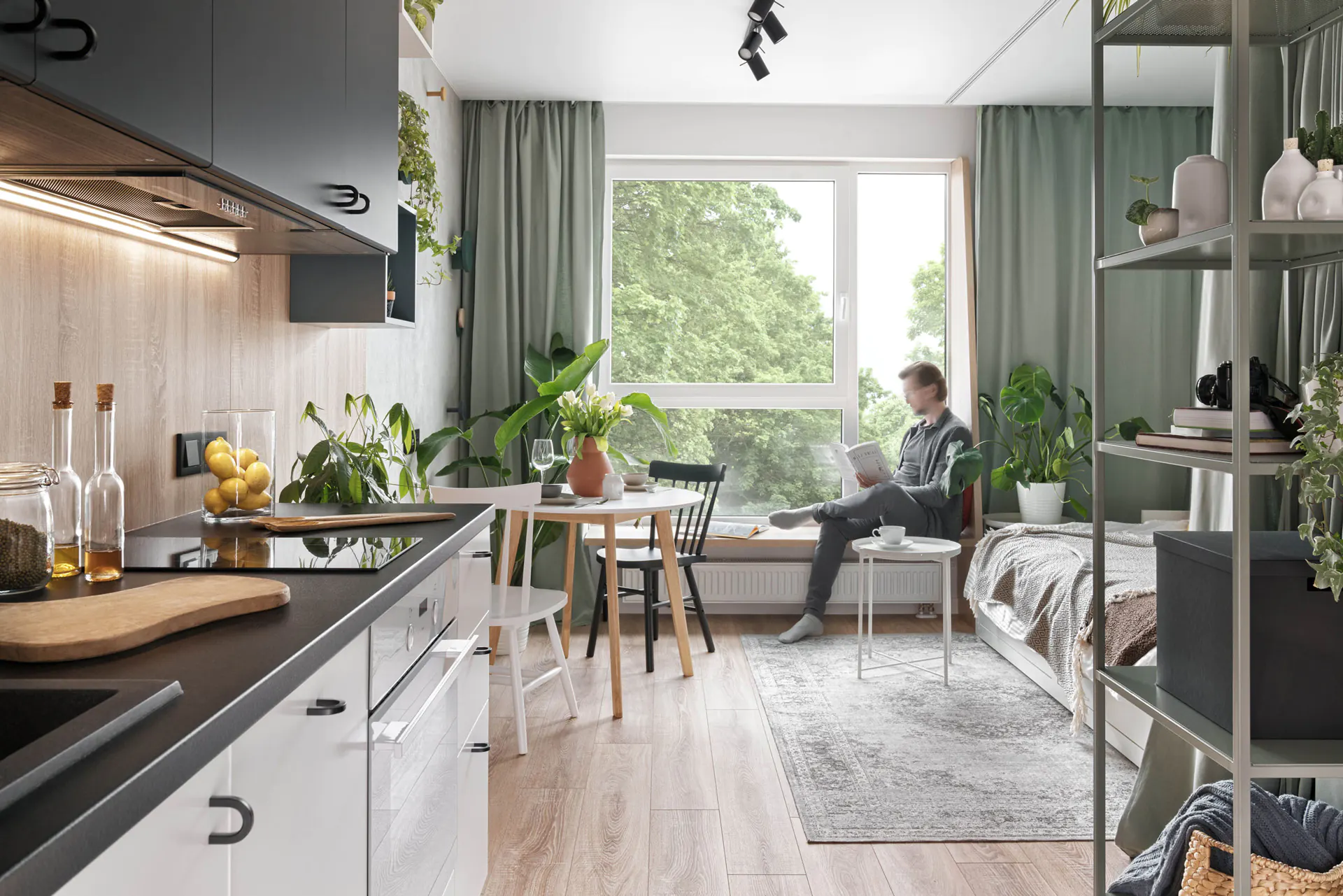 Our interviewees talked about how they had fallen victims of dishonest lessors, time pressure or unfavourable contractual arrangements. There were people who signed rental agreements, paid deposits, and even received keys to apartments, but when the time came to move, it turned out that they encountered frauds who wanted to rent out apartments that weren't even theirs. That is why we have decided to create a list of tips for people who are looking for an apartment to rent. We hope that those tips will help other people to avoid such traps and protect their peace of mind and household budget.
1. First of all, verify who you are talking to
Apartment rental is almost always connected with a deposit. Sometimes it's the deposit of 1, 2 or 3 monthly rentals. The more expensive the apartment is, the higher deposit you have to pay. That is why you should pay attention to whom you pay your deposit and verify the title of ownership – primarily mortgage register. If you encounter a person who wants to rent out someone else's apartment, verify if they are entitled to do so and if they have an authorisation certified by a notary. If you are not sure, contact a notary's office or pull out of this dubious transaction.
2. Read online offers carefully
and avoid advertisements with incomplete information, no photos or owner's contact details or advertisements, in the case of which you are able to contact an owner only via an instant messenger. Never provide your bank account number, ID scan and don't click on dubious links – otherwise you can easily fall victim of data or money theft.
3. A good agent may be helpful, especially when you move to a new city
You can look for an apartment on your own or with the help of an estate agent. If you want to seek the assistance of an agent, choose a reliable person from a reputable company, preferably on someone's recommendation, who will guide you through the costs and apartment-seeking plan, but will also verify whether a lessor is an apartment's owner.
Cooperation with an agent is comfortable and less time-consuming. It's the agent who selects apartments, recommends the best locations according to client's needs, makes appointments and prepares an agreement. If you don't know the city and the neighbourhood, consider this.
However you should bear in mind that the boom in the real estate market also attracts people who are all about profit. That is why you should check your agreement carefully, ask about all unclear clauses and ask your agent to explain them to you in a clear way. Moreover, be sure to verify in the mortgage register who the owner of the apartment is. Ask your agent to send you the number of the mortgage register and verify apartment's owner on https://ekw.ms.gov.pl
4. Consider institutional rental
It is more and more popular, especially in more developed countries of Western Europe, to sign agreements with companies which specialise in renting premises. Those companies are very often located in specially designed buildings with additional common areas for tenants and additional maintenance services. This option is worth taking into account because there are no such uncertainties as owners' whims: auditions for tenants, unannounced visits or changes in lease terms. Apartments are new or refurbished between every lease agreement. Very often advisory care is also available, and failures are quickly removed by a building administrator. People who have had negative experiences with renting an apartment will surely appreciate reliability and safety, as well as convenience connected with this form of lease. However, it is worth verifying opinions on the building and the company. Just look for the groups of clients on Facebook and ask about their opinions to verify if a given building is suitable for you.
5. Specify your needs concerning the location and additional service
An apartment in the outskirts may be much cheaper, but the costs connected with commuting, tickets or fuel, as well as time wasted in the jams may turn out to be much higher than you could have expected. If you have a car, check whether your apartment has a parking space or whether there is a possibility to park outside and whether having a car in this location doesn't generate additional costs.
6. If there is such a need, temporary registration of residence you can get on a basis of rental agreement
There is a misconception that temporary or permanent registration requires the consent of the landlord. Remember that you can always do it on the basis of a rental agreement and by completing a special registration form.
Therefore, if you need a card for the paid parking zone, take a loan or enroll your child in school, you will arrange permanent or temporary registration on the basis of an agreement.
7. Time is money, but in this case, rush may cost you a pretty penny – choose your apartment and sign an agreement with cool mind
Very often, especially in September and October when the demand for apartments in Poland is the highest, tenants make quick decisions, grab the opportunity or act under pressure exercised by lessors who organise auditions or schedule appointments for similar time. Such quick decisions may result in a situation when a rented apartment becomes a bottomless pit for a tenant because technical condition requires investment.
8. Secure yourself against unexpected repairs
Require such agreement clauses that will define which repairs and to what amount are borne by a lessor and which are borne by a tenant. Usually repairs up to 100-200 PLN may be borne by a client, while bigger repairs connected with installation or household products should be borne by an owner. It's a good idea to determine this in your agreement so that you don't have to bear the costs of expensive repairs. You should always examine apartments thoroughly and preferably in the daylight. Pay attention to all installations: electrical, hydraulic and gas.
9. Prepare hand-over report and attach some photos
Check all meters, sign a hand-over report bilaterally and attach the photos of visible shortcomings – in contentious cases they may help you keep your deposit at the end of your tenancy. Such a document is helpful in the case of the settlement of utilities that usually takes place once every six months. Require a precise reference to meters. Very often administration or a community is not able to settle utilities for a given day and if you exceed consumption limits there may arise some problems, that is why it is good to agree with a lessor that all meters shall be transferred to your name, and you shall settle accounts directly with media providers. In this way you will be able to avoid unnecessary claims connected with "suspicions" of too high bills delivered by the owner or requests to settle underpayments, which might be the result from the consumption of previous tenants.
10. Be meticulous
While signing your agreement, pay attention to all agreed issues and data accuracy, specify rules concerning the termination of the agreement and verify signatures. Pay your rent and deposit via bank transfer or include a clause in your agreement concerning the receipt of payment by the lessor. Be careful, precise and don't hurry while making any decisions which consequences may be noticeable for many months.